Hi there readers! My name is Jen and I am filling in today as a guest blogger for my good friend Alastair! His 80s blog has really got the memories going about how I lived thru the 80s and lived to tell about it!

I grew up in the 80s and I had a total blast! The 80s were some of the best times of my life! Alastair has asked me to be his guest blogger from time to time and today I have chosen to write about 80s fashion from a girlie point of view.

I can easily say that without a doubt that I had fallen prey to some of the 80s fashion that took the world by storm! Yes, I had the big hair, the 10,000 bracelets on my arms, lots of eye makeup and I had the 80s clothing! I had the jellie shoes, the bracelets, L.A. Gear shoes, Jordache Jeans, spandex and all.

In the early 80s circa 1981 to 1983 women everywhere either sported the Pat Benatar
look or the Olivia Newton John exercise look. Their attire was very similiar, with both spandex, braided headbands and short no fuss hair. Women everywhere adopted this no frills look because they could make the transistion from workout clothes to rocker clothes with minimal effort.

Pat Benatar had the rocker edge, while Olivia Newton John was coming out of her Grease era and into her Physical stage.
Both women were big trendsetters before 80s fashion really took off!

Fashion in the 80s was catapulted to a whole new era when Madonna came onto the scene full force in late 1983 to 1984. The Material Girl sent mothers everywhere hurrying to cover their daughters who rebeled in half naked clothes against wholesome clothing with Madonna's trade mark, Boy Toy Belt, bustiers, lacey see thru blouses, shades and short skirts.

Madonna had young girls everywhere raiding their mothers lingerie to put a Madonna look together of their very own. She had also had young girls everywhere not only dancing, dressing and singing like her, but she also had them not wanting to be virgins anymore as well.
I remember the first time I played Madonnas Like a Virgin in my house. I was about 10 or 11 years old and my mom had gotten it for me as a present for being good in school.

I was playing it on the record player in my room when my dad bursts in my room and says, What the hell is that? I was like, Dad, it's Madonna! The next thing I know, my dad is asking my mom what the hell kind of music his kids are listening to! Madonna was a real icon in fashion back then.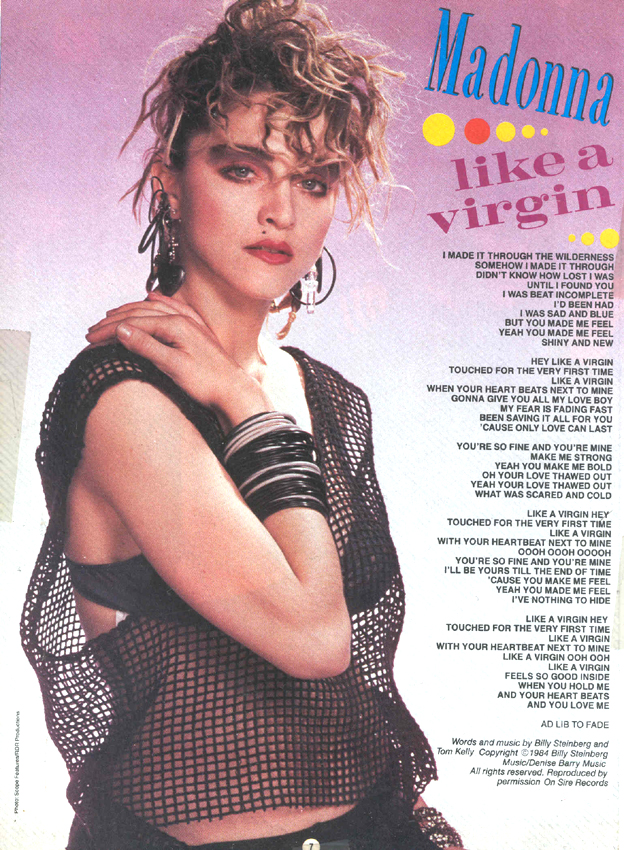 Lets not forget the whole blazer jacket thing with the shoulder pads that made every woman look like they could be a linebacker for the Packers. This whole look got started with the soap Opera Dynasty'circa 1984 to 1987, when Joan Collins and Linda Evans made looking like a woman on steriods an 80s classic in fashion.
The look was unmistakeable and it also carried over into womens blouses and dresses as well. Yes, I will admit, I had a few of those types of blazers, but most of the time, I would rip out the shoulder pads.

Also among women's fashion in the 80s wer
e banana hair clips, jelly shoes, jelly bracelets, big hair clip bows, L.A. Gear sneakers, Jordache Jeans, big hand bags with no purse straps, big earrings, popped collars and lets not forget the whole Flashdance thing with the sweatshirt hanging off the shoulder thing thrown in with some leg warmers!
I am sure that I a missing a few more items of 80s fashion, but for some reason, I have repressed them due to how embarrassing they had become when looking back at it all.
If it was in a fashion mag back then, women were wearing it! Women's fashion trends in the 80s was a like a religion. If you weren't wearing what was cool, then you definitely got picked on. It was not hip to be square!
Well, that's pretty much the lowdown on womens fashion in the 80s from a girls point of view!
Perhaps next guest blogger post, I will talk about mens fashion in the 80s!
Big thanks to my friend Alastair for inviting me to be his guest blogger! It was a real honor!

Until Next Time,
Jen =)